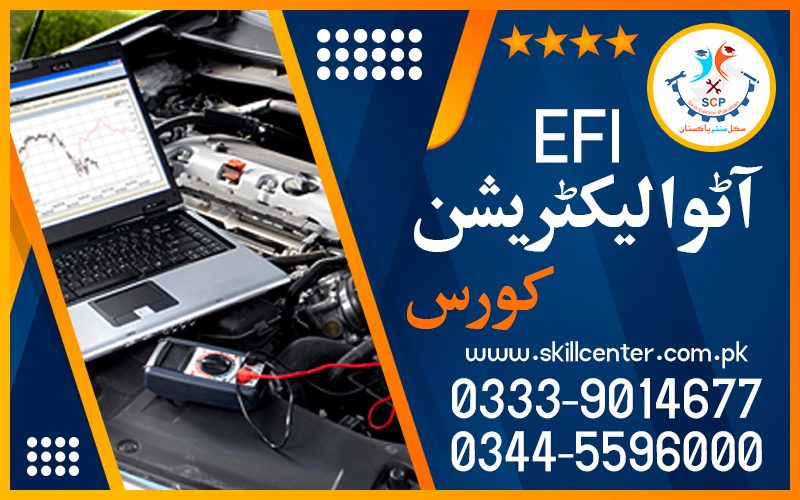 EFI Auto Electrician Course in Mardan Pakistan 0333-9014677
Introduction
An auto electrician performs routine maintenance, services, inspections, repairs, and replacements on the electrical and electronic components of cars. A competent and dependable car electrician should be able to install electrical installations and network equipment on a car and identify and fix installation and network equipment problems using the drawings as a guide. This craftsman should also do a quality check on the finished electrical work while keeping in mind the laws and regulations. The three-month auto electrician training offered by Skill Center Pakistan is a component of its trade programs. Each student will be able to identify the different electrical symbols and describe how the electrical installations are set up on a vehicle after finishing this course. They will also be able to identify the different types and components of electrical installations.
Students are taught how to connect electrical and electronic devices to installations at the school, as well as the many types and applications of the tools and equipment used to develop and configure network devices and electrical systems. The students will be given education on these ideas in addition to learning how to set up and connect electrical and electronic equipment on the projects. You might learn about words like ECU and CPU as well as what system sensors are and how they operate in the Skill Center Pakistan auto electrician course (coolant fluid temperature sensor, air temperature, and flow sensor). Encoders, their functioning, the Hall Effect, knock sensors, and the function of the speed sensor are among the topics covered at Skill Center Pakistan.
This place offers the best and most comprehensive training for car electricians. Thanks to your great and comprehensive education, you will be well-prepared for this sought-after position. The practice phase of this program is the most crucial component. Although it is not part of the course fee, the practice can be completed in a store that partners with Skill Center Pakistan. The content, the final tests, and a recognized certificate are all included in the course fee.
EFI Auto Electrician Training Course Outline
Here is an example of an EFI (Electronic Fuel Injection) Auto Electrician course outline in bullet points
introduction to the elements of EFI systems
Knowing engine management systems
EFI system diagnostic tools and equipment
analyzing and deciphering schematics and wiring diagrams
recognizing and fixing typical EFI system issues
Understanding fuel management and fuel injection systems
Understanding spark management and ignition systems
Understanding computer-controlled systems and programming Knowing the sensors and actuators used in EFI systems
advanced EFI system diagnostic methods
upkeep and repair of EFI systems
precautions and safety measures while working with EFI systems
introduction to electric and hybrid car technologies (optional)
Practical experience with EFI systems and diagnostic equipment
Assessment or final project on diagnosing and fixing EFI systems.
Course Duration: 3 MONTH
Total Fee: 35,000/-
EFI Auto Electrician Course in Mardan Pakistan 0333-9014677
EFI Auto Electrician Course in Mardan Pakistan 0333-9014677
EFI Auto Electrician Course in Mardan Pakistan 0333-9014677
EFI Auto Electrician Course in Mardan Pakistan EFI Auto Electrician Course in Mardan Pakistan EFI Auto Electrician Course in Mardan Pakistan