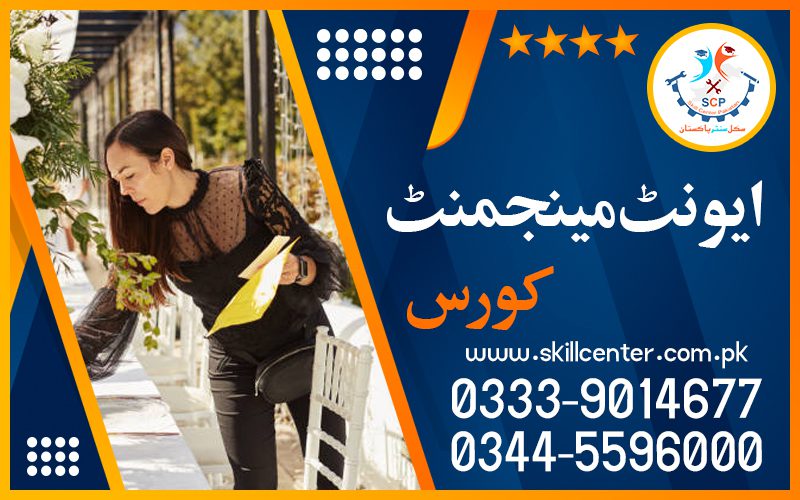 Event Management Course in Faisalabad Pakistan
0333-9014677
Introduction
A training course in event management equips participants with the information and abilities required to organize, manage, and carry out events of all shapes and sizes. A variety of event management-related subjects are covered in the course, including budgeting, marketing and promotion, risk management, and event production. Depending on the school conducting the course, its length may vary, but it often lasts from a few weeks to a few months. Candidates may need to have a high school diploma or the equivalent to enroll in the course, which is offered as a certificate, diploma, or degree program.
Both academic and practical elements are often included in the event management course. Theoretical aspects of event management are covered, including types of events, event planning, budgeting, and risk management. On the other hand, the practical component emphasizes hands-on instruction, allowing students to apply what they have learned to actual event settings.
Graduates of the event management program can find work as event organizers, managers, or planners in a range of sectors, including hospitality, sports, entertainment, business, non-profit, and government. They could also create their event planning firms, work for production houses, or both. In conclusion, the Event Management Course is an excellent educational program that gives students the information and abilities they need to be successful in the event management field. Graduates are well-equipped to handle events of any scale and complexity and are given a solid basis for a career in event planning and production.
Event Management Training Course Outline
The following is a general outline of topics typically covered in an Event Management Course:
Introduction to Event Management: A description of the event management sector, its roles, and its effects on the company.
Knowing the many kinds of events, such as corporate events, social gatherings, cultural events, and athletic events.
Event planning involves creating event ideas, schedules, finances, and proposals.
Event design includes coming up with themes, branding, decorations, and marketing strategies for events.
Organizing event logistics, vendor management, event technology, and event security is known as event production.
Event promotion includes creating event marketing plans, event advertisements, and event public relations.
Risk management includes knowing what to watch out for, being prepared for emergencies, and having event insurance.
Event evaluation includes measuring event analytics, event feedback, and event success.
Knowing the laws governing events, such as permits, licenses, and contracts, as well as ethical considerations in event management
Knowing legal requirements for events, such as permits, licenses, and contracts, as well as ethical issues in event design and execution, are important for successful event management.
Recognizing the difficulties and possibilities associated with managing events in a global setting
Course Duration: 3 MONTH
Total Fee: 35,000/-
Event Management Course in Faisalabad Pakistan 0333-9014677
Event Management Course in Faisalabad Pakistan 0333-9014677
Event Management Course in Faisalabad Pakistan 0333-9014677
Event Management Course in Faisalabad Pakistan 0333-9014677