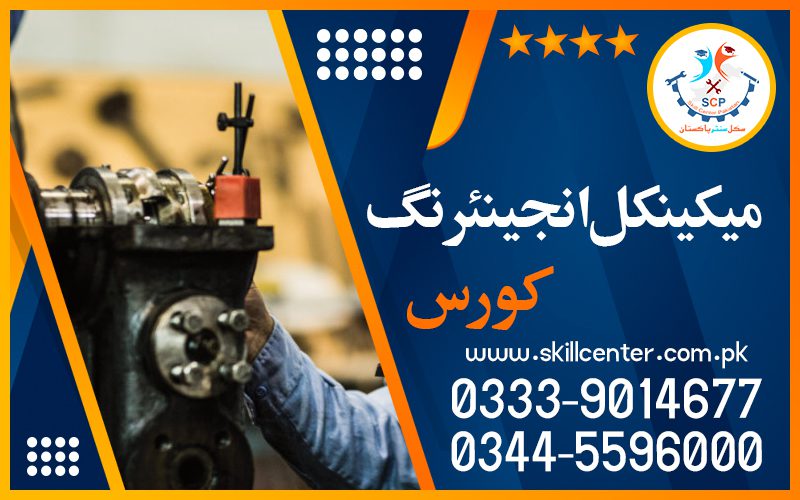 Mechanical Engineering Course in Rawalpindi Islamabad 0333-9014677
Introduction
One of the oldest and most diverse engineering specialties, mechanical engineering focuses on the creation, building, and upkeep of mechanical systems. Mechanical engineering programs are available in Pakistan at the diploma, undergraduate, and postgraduate degree levels. The following is a thorough overview of Pakistan's mechanical engineering programs.
Introduction to mechanical engineering: This course gives a general introduction to the discipline, its background, and its practical applications. Students gain knowledge of mechanical engineering's significance in contemporary society as well as its involvement in numerous sectors.
Physics and mathematics: The basis of mechanical engineering is physics and mathematics. Calculus, differential equations, mechanics, thermodynamics, and electromagnetic are just a few of the subjects covered in these courses. Students gain knowledge of how to address engineering challenges using physical and mathematical concepts.
Mechanical characteristics of materials, stress, strain, deformation, and failure analysis are all topics covered in this course. Using the concepts of material mechanics, students learn how to design and evaluate mechanical parts and structures.
Kinematics, dynamics, and control of machines are all topics covered in this course on machine mechanics. Students study the design and analysis of mechanical systems that employ mechanisms including gears, cams, bearings, and linkages.
Processes used in manufacturing: This course will discuss the procedures needed to turn raw materials into final goods. Students gain knowledge of casting, forging, welding, and machining as well as how to choose the best method for a particular application.
The basics of heat transport, including conduction, convection, and radiation, are covered in this course. Students gain knowledge of how to design heat exchangers and other thermal systems as well as evaluate heat transfer issues.
The fundamentals of fluid mechanics, including fluid statics, fluid dynamics, and fluid flow measurement, are covered in this course. Students gain knowledge of hydraulic and pneumatic system design as well as fluid flow issue analysis.
Students in mechanical engineering programs in Pakistan study courses in computer-aided design (CAD), materials science, control systems, robotics, and mechatronics in addition to these fundamental topics. The sectors these courses train students for include manufacturing, aerospace, automotive, and energy.
Mechanical Engineering Training Course Outline
Depending on the level of study and the school delivering the program, the course plan for mechanical engineering courses in Pakistan may change. Nonetheless, the following subjects are frequently included in mechanical engineering courses in Pakistan:
Engineering Mathematics
Engineering Physics
Engineering Drawing and CAD
Mechanics of Materials
Mechanics of Machines
Thermodynamics
Manufacturing Processes
Fluid Mechanics
Heat Transfer
Engineering Materials
Engineering Design
Control Systems
Robotics
Mechatronics
Finite Element Analysis
These topics provide a broad understanding of mechanical engineering and its applications. Students in mechanical engineering courses in Pakistan also learn practical skills, such as using computer-aided design software, conducting experiments, and developing technical reports. The course outline for each program may vary, and interested students are encouraged to review the course syllabus for the program of their choice.
Course Duration: 6 MONTH
Total Fee: 65,000/-
Mechanical Engineering Course in Rawalpindi Islamabad 0333-9014677
Mechanical Engineering Course in Rawalpindi Islamabad 0333-9014677
Mechanical Engineering Course in Rawalpindi Islamabad 0333-9014677
Mechanical Engineering Course in Rawalpindi Islamabad 0333-9014677