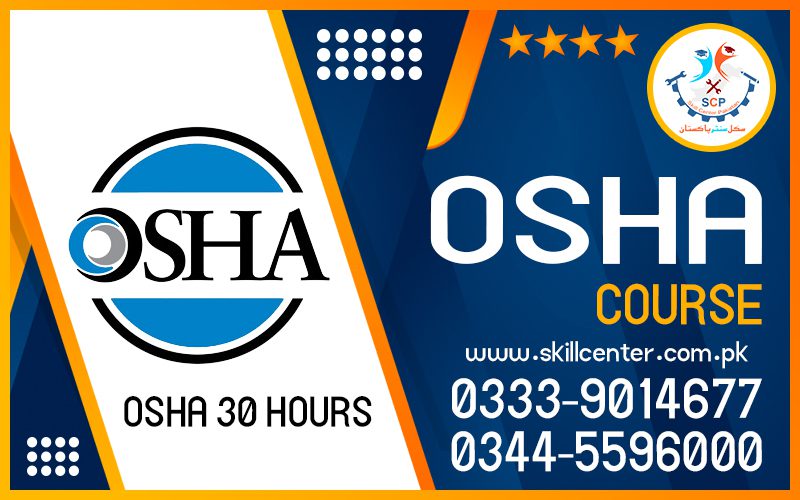 OSHA COURSE IN ABBOTABAD PAKISTAN 0333-9014677
Introduction
The Occupational Safety and Health Administration, or OSHA, is a government agency in the United States that was established to guarantee safe and healthy working conditions for employees. OSHA is a US-based organization, although it has concepts and practices that are extensively used around the world, including in Pakistan.
As a division of the US Department of Labor, OSHA was founded in 1970. Its goal is to avoid work-related diseases, accidents, and fatalities by establishing and enforcing standards, as well as by offering outreach, training, education, and support to both employers and employees. OSHA's regulations apply to a variety of industries, including manufacturing, healthcare, and construction. These regulations are meant to safeguard employees against well-known workplace dangers including contact with poisonous substances, slips and falls, electrocution, and other forms of mishaps.
OSHA Guidelines
OSHA has set some guidelines to safeguard employees from various occupational risks. Some of the most often referenced OSHA regulations are listed below.
Fall Protection: To protect workers from falls that might cause serious injury or death, OSHA mandates that employers install fall protection devices, such as guardrails, safety nets, and personal fall arrest systems.
Hazard Communication: OSHA mandates that businesses advise staff members on chemical dangers at work, including how to utilize safety data sheets (SDSs) and mark hazardous goods correctly.
Respiratory Protection: OSHA mandates that businesses give workers who are exposed to dangerous dust, fumes, or other airborne pollutants respirators.
Lockout/Tagout: To prevent the unintentional release of stored energy, which might cause significant damage or death, OSHA mandates that businesses create methods for regulating hazardous energy sources.
Electrical Safety: OSHA mandates that companies offer instruction and set up security measures to stop electrical risks including shock and electrocution.
OSHA Training
Workers and employers may learn about workplace dangers and the best ways to avoid illnesses and injuries by attending OSHA training. The several forms of OSHA training are as follows:
OSHA 10-Hour Training: This training is intended to give workers in many industries, including construction, manufacturing, and healthcare, fundamental safety and health knowledge.
OSHA 30-Hour Training: This course, which covers a wide variety of topics including hazard identification, fall protection, electrical safety, and others, is meant for personnel who have supervisory or safety duties.
OSHA Outreach Training: This instruction is given by certified OSHA trainers and covers a range of subjects, including work at disaster sites, general industry, and construction.
Benefits of OSHA Training
Both individuals and employers can benefit from OSHA training in some ways. Some advantages of OSHA training include the following:
OSHA training equips workers with the information and abilities to recognize workplace dangers and avoid accidents, which creates a safer working environment.
OSHA training contributes to a decrease in occupational accidents and illnesses, which in turn lowers medical expenses and workers' compensation claims.
OSHA training assists firms in adhering to OSHA regulations, which can lower the likelihood of receiving tickets and fines from the agency.
Productivity Gains: OSHA training may boost output by lowering the number of workplace mishaps and injuries, which can cut down on lost time and absenteeism.
OSHA Training Course Outline
An overview of the OSHA course is provided below in bullet points:
Introduction to OSHA
OSHA's history and mission
OSHA's role in workplace safety and health
Overview of OSHA standards and regulations
OSHA Standards and Regulations
Overview of OSHA standards and regulations
Hazard Communication
Respiratory Protection
Fall Protection
Lockout/Tagout
Electrical Safety
Hazard Identification and Prevention
Identifying and assessing workplace hazards
Implementing hazard prevention and control measures
Emergency preparedness and response
OSHA Recordkeeping and Reporting
Overview of OSHA's recordkeeping requirements
OSHA 300 log and other recordkeeping forms
OSHA reporting requirements
OSHA Training Requirements
OSHA training requirements for employers and employees
Types of OSHA training
OSHA outreach training
OSHA Inspections and Citations
Overview of the OSHA inspection process
Employer and employee rights during OSHA inspections
OSHA citation process and penalties
OSHA Compliance Assistance
OSHA's role in assisting employers with compliance
OSHA's free consultation program
Other OSHA compliance resources
OSHA's Role in Construction Industry
Overview of OSHA's construction standards and regulations
Focus on construction industry hazards and best practices
OSHA's Role in General Industry
Overview of OSHA's general industry standards and regulations
Focus on general industry hazards and best practices
OSHA's Role in Healthcare Industry
Overview of OSHA's healthcare industry standards and regulations
Focus on healthcare industry hazards and best practices
Course Duration: 1 MONTH
Total Fee: 40,000/-
OSHA COURSE IN ABBOTABAD PAKISTAN 0333-9014677
OSHA COURSE IN ABBOTABAD PAKISTAN 0333-9014677
OSHA COURSE IN ABBOTABAD PAKISTAN 0333-9014677
OSHA COURSE IN ABBOTABAD PAKISTAN 0333-9014677