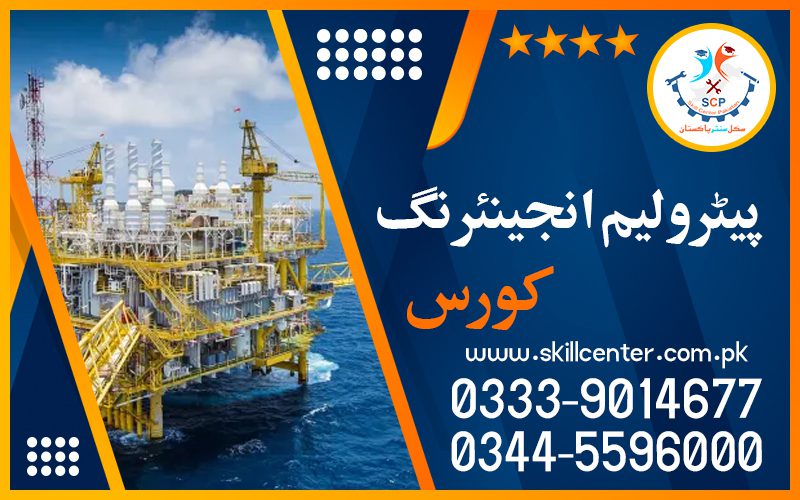 Petroleum Engineering Course in Chakwal Pakistan 0333-9014677
Introduction
The production, processing, and exploration of crude oil and natural gas fall within the purview of petroleum engineering, a subfield of engineering. It involves the creation and development of technologies and procedures for locating, extracting, and processing hydrocarbons from subsurface reserves using scientific and engineering concepts. The development and implementation of techniques for extracting oil and gas from reservoirs, designing drilling and production machinery, and assuring the security and effectiveness of oil and gas operations are all the responsibility of petroleum engineers. They collaborate closely with geologists, geophysicists, and other experts to locate possible oil and gas deposits, assess their viability, and create extraction strategies.
Petroleum geology, reservoir engineering, drilling engineering, production engineering, well completion design, well stimulation methods, and petroleum economics are just a few of the subjects included in a standard petroleum engineering school curriculum. Students also study the laws that regulate the business as well as the environmental and safety concerns related to the production of oil and gas.
Graduates of petroleum engineering degrees can work for a variety of enterprises in the oil and gas sector, including those engaged in exploration and production, oilfield services, consultancy, and government. They could work as petroleum geologists, reservoir engineers, drilling engineers, production engineers, or petroleum economists, among other positions. Petroleum engineers are well-equipped to handle the difficulties of locating and producing energy resources in an increasingly complicated and interconnected world because of their solid grounding in science, technology, and engineering concepts.
Petroleum Engineering Training Course Outline
A typical petroleum engineering course curriculum includes a range of subjects covering various aspects of the industry. Here is a sample course outline
Introduction to Petroleum Engineering
Overview of the petroleum industry
History of petroleum exploration and production
Energy and the global economy
Petroleum Geology
Basic geologic principles
Sedimentary rocks and their formation
Petroleum traps and reservoirs
Geologic mapping and seismic interpretation
Reservoir Engineering
Fluid properties and behavior
Reservoir rock properties
Reservoir characterization
Reservoir simulation
Drilling Engineering
Drilling rig components and systems
Drilling fluids and circulation
Drill bit types and selection
Wellbore stability and formation damage
Production Engineering
Well-completion and stimulation techniques
Artificial lift systems
Production logging and optimization
Surface facilities and equipment
Petroleum Economics
Oil and gas reserves estimation
Financial analysis and investment decision making
The oil and gas business is subject to risk and unpredictability.
Environmental and social costs and benefits of oil and gas production
Professional Practices and Ethics
Professional conduct and responsibility
Health, safety, and environmental considerations
Legal and regulatory frameworks
Social and ethical implications of petroleum engineering
Course Duration: 6 MONTH
Total Fee: 65,000/-
Petroleum Engineering Course in Chakwal Pakistan 0333-9014677
Petroleum Engineering Course in Chakwal Pakistan 0333-9014677
Petroleum Engineering Course in Chakwal Pakistan 0333-9014677
Petroleum Engineering Course in Chakwal Pakistan Petroleum Engineering Course in Chakwal Pakistan Petroleum Engineering Course in Chakwal Pakistan